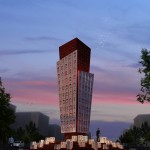 Designing memorial element of martyrs of Defa Moghaddas (holy defense) with the purpose of illustrating the photos of 400 martyrs was very challenging in a square with narrow range.
Approaches and purposes of the designer
Finding a new proof for monumental concept in today's world
Strong ground in Iranian culture an architecture
Avoiding from repetition and cliché in this context
Novelty and originality
Satisfying employer's requirements based on locating multiple photos of martyrs
Theoretical ground of the design:
Implying the concept of flourishing and ascent
This case in composed of three parts:
Stone and step particles in the square
Photos of martyrs are imprinted on white stone particles surrounding the element and show that these people are raised from the heart of the society and gathered due to a particular purpose.
Middle mass is like a red tulip and a reminder of martyrs blood and roar with red glazed tile material which implies supreme and valuable goal of this thought school. This part is made o handmade red glazed tile with smooth tonality.
Adding pigeon nest to this part for permanent flying of pigeon is a symbol of freedom and martyrdom so that it reminds resolute ascent of martyrs and persistent presence of their soul in the heart of the city realistically and persistently.
White color shows pure soul of martyrs and its shell form points to the braveness of these valued individuals.
Special lighting among threads surrounding photos is to strengthen the feeling of holiness, idealism and ascend.
For better view, project mass has a mild angle towards the surrounding and in this way photos are growing larger from bottom to the top.