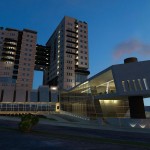 The employer's applications required are as follows:
Providing 150 residential units
Providing the parking required on -2, -3 and -4floors, providing a number of commercial units on the ground floor, -1 and +1 floors and providing sport and recreational spaces
This competition was held with limited recall with the topic of designing Khorasan Dentists' residential complex, in summer 2010.
In the first phase among 15 people invited, 3 individuals were selected and the competition was held.
Locating and mass lay out form of this project has been conducted, considering the requirements and tastes of the target group (addressed group) of this project and the climatic conditions of the target site including: lightning, the winds blowing direction, the visibility and special view of the site, the city view and the southern part mountain, in order to provide maximum rate of comfort for the individuals.
After studying the above-mentioned points, the residential towers were designed in the form of 3 blocks, which the northern blocks have 13 floors and the southern block has 6 floors.
In this locating, the unfavorable entry of north western wind to the enclosure has been prevented by a mass. On 4 floors through connecting bridges between two northern blocks and on the best view condition of the site, the semi-open neighboring court yards for intimate relationship of the members, who have similar cultural context, have been formed and they are the main volume features of this project.