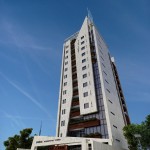 Idea:
In fact, this project is in the overview plans of this office, because it was referred to us at the point of implementing the columns and cores of the shear walls on two floors and through maintaining the mass laying limitations and plan, the main structure of the plan was changed and revised. Certainly without maintaining these restrictions, the possibility of more maneuvers would have been provided for the designer.
This building has two underground floors with the parking, pool and storerooms application. Its pool was also added to the work during the overview. The ground floor has a lobby, auditorium, gym and children's play area, coffee shop and play area. Five floors have two units and eight floors are single-unit and a duplex penthouse, are all units of this project.
The facade of the project consists of a plate which seems as if, as a result of lightning it has been cut with a special form. This plate with a variable opening in some parts of the main terrace of the units, which are located in the middle of volumes has created privacy and provides comfort for the residents.
The front space of the building at the edge of the street, relatively open connection to the adjacent lane and sidewalk has created an intimate bond with its surrounding environment.